A curated collection of the latest and most interesting podcast episodes about the author life.
What a crazy month it's been already. I've done a lot of volunteer work and gone camping. And done a fair amount of work on my memoir. (Also, client work and yoga on the patio!) Have a great summery week! Enjoy the podcasts.
Top 3 Must-Listen Episodes
Writer Craft Podcast // Ep76: Marketing You Can Do While Writing Your Book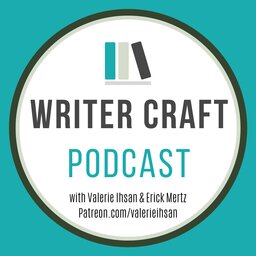 The most important first step in getting people to buy your product is to get readers to know it exists.
That comes with getting on podcast interviews, going to networking events, doing book readings, teaching workshops at libraries, etc. That's Attract Marketing. Letting people know you are out there.
Then, you Engage with them. Write a blog, or do a podcast, or create some other way of engaging with the people that now know you exist, but still have not become a customer of yours (like get them on your mailing list).
Then, you Nurture them. That's where they begin to Know, Like, and Trust you. Still before they buy! This is the time when you'd be posting regular content for them in a newsletter or FB Live posts, or pictures of your life on Instagram.
Only then can you Invite them to buy.
And, in order to keep them as an ongoing client [reader], you must Delight them. Create the best book(s) possible and they'll come back for the next one and tell their friends.
This process isn't something you do in a week or even a month. It's a long-term strategy. It's part of the author life and part of our job. Have fun with it.
Wish I'd Known That Then // Ep128: Lindsay Buroker on Pen Names, Podcasting, and Rapid Release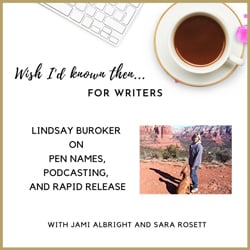 This episode was re-broadcast because it was a great one. Lindsay is an indie-powerhouse and is chock-a-block with great and interesting ideas on how to thrive as an indie author. She has a creative mindset that enables her to serve her readers, make as much money as she needs, and play with all the genres she likes.
She talks about podcasting, rapid release, writing workshops, Patreon, series writing, and focusing on what you're good at.
It's a great listen.
Revision Wizards // Ep1:Who is Miss Catherine M.H.?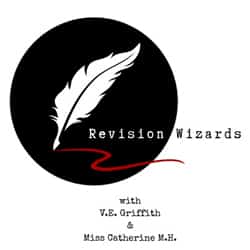 Brand new baby podcast time! These guys are a hoot. (And I know this because I've seen their Patreon blooper reel!) Miss Catherine and V.E. are Certified Three Story Method Editors and I'm super excited to follow this podcast. It promises scene analysis, interviews, and other tricks of the trade. In this episode, Miss Catherine talks about getting harsh critiques from family, how writing helped her through a dark and scary place in college, working as a pantser, and writing to music with lyrics. Gasp! She writes steampunk with darker themes of humanity and she speaks openly about being a neuro-divergent writer and editor.
I'm really interested to see where this new podcast goes.
The Latest from The Author Life Podcast
72: HOW IS WRITING SERIALS DIFFERENT THAN NOVELS?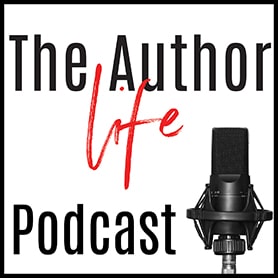 This week author Crys Cain is joined by special guest Christine Daigle. They discuss what goes into writing serials and how it differs from writing novels.
The Wildcard: Interesting Episode from a Non-Writing Related Show
The Jasmine Star Show // Maximize Your Content Creation Time While Balancing a 9-5 Job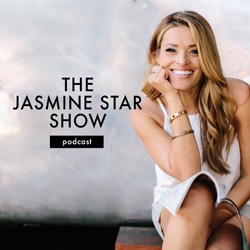 This episode is a recorded group coaching session she held for her clients, and the first question that came up BLEW MY MIND. The creator had 90 minutes a week set aside for the social media tasks she had, and Jasmine Star brought out the MATH. Once the creator talked Jasmine through how long each task took her, it was clear that there was no physical way she could accomplish what she set out to do with the time she'd set aside for it.
People! This happens to me ALL.THE.TIME. I consistently put activities into my planner and assume they will take me X amount of time, and when it doesn't all fit, I'm stymied. I just haven't done the math.
Inside The Author Life
Summer can get crazy busy, so make sure you save time for the loves in your life.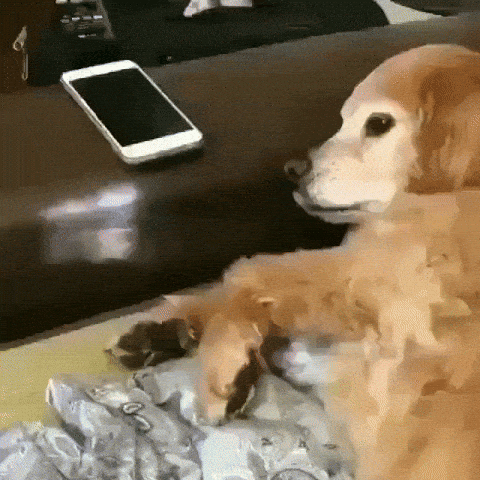 Get the APB delivered straight to your inbox!
Need some help with your story?
Three Story Method certified editors are standing by, ready to help you become a better writer. Click on our picture or visit https://theauthorlife.com/editing/ for more details!